Rottay 16.8 Million RGB Backlit Wired Mechanical Gaming Keyboard
【MECHANICAL BROWN SWITCH】: Professional mechanical brown switches with tactile feedback and an low-noise audible click, Ideal for the best overall gaming performance e-sports and more tactile everyday typing.

【Customizable RGB Backlit Mode】 16.8 million RGB intelligent colorful and virtually unlimited lighting customization. light up your gaming night. 13 preloaded backlit modes and 9 lighting modes, 5sets of lighting modes for gaming. supports custom light for all keys.

【Anti-Ghosting & Fully Programmable 】100% anti-ghosting with 104 key rollover on USB ensures no matter how fast your play, all your keypresses register. 104 programmable macro keys. Reassign any key or set up the most extreme macros for advanced gaming .Great for fast typists and professional gamers.

【Extreme Durability】 Designed with a double layer ABS construction case and brushed aluminum panel that's clean, exquisite, and can stand up to tough conditions. Hollow double keycaps design make sure the characters never fade and crystal clear backlighting. Gold-plated interface and magnet ring can to a large degree guarantees stable data transmitting. 2 stands on the back of keyboard can adjust the keyboard height.

【Warm tips】: To prevent mistakenly press Windows during gaming. The Win key only have two lighting modes. Red means Win key locked, No lighting means Win key unlocked, "Fn+Win" switch the lock/unlock
Driver Download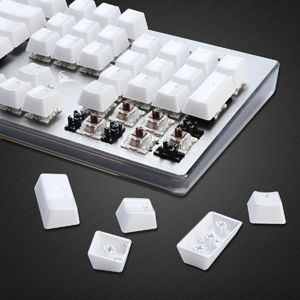 Outemu Brown Mechanical Keyswitches
Professional mechanical brown switches with tactile feedback and an low-noise audible click, Ideal for the best overall gaming performance e-sports and more tactile everyday typing
Individual switches tested for 50 million keystrokes

Actuation Force: 50gf +/- 5gf

Keystroke Travel: 2.0mm +/- 0.3mm
Customizable RGB Backlit Mode
13 preloaded dynamic backlighting and 7 pure lighting colors, Brilliant RGB backlighting immerses you in the game with virtually unlimited lighting adjustability
FN+Ins=support 13 backlit modes
FN+Del=support 9 lighting modes
FN+PrtSc= Turn off the lights
FN+1/2/3/4/5=5 sets of lighting modes for gaming
FN+↓/↑= Change the brightness in four grades
FN+←/→= Change the speed in four grades
FN+Esc= The lights return to normal mode and all user settings are restored to factory mode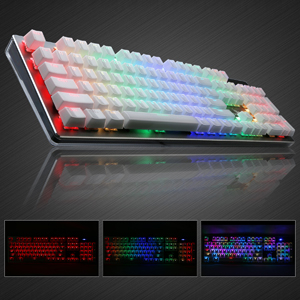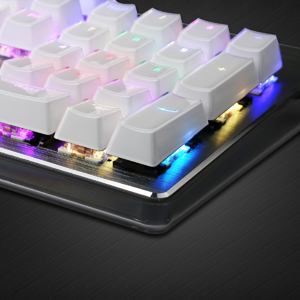 Unique ABS Double-Shot
Hollow double keycaps design make sure the characters never fade and crystal clear backlighting.
Non-Slip Ergonomic Design
The stepped keycap, fit your hands easily to prevent fatigue.

Designed with a double layer ABS construction case and brushed aluminum panel that's clean, exquisite, and can stand up to tough conditions.

The Keycaps can be removed in case you need to clean the keybord after long term use or simply want to switch out the key caps to add a personal touch.